<![if !vml]>
<![endif]>
<![if !vml]>
<![endif]>
<![if !vml]>
<![endif]><![if !vml]>
<![endif]><![if !vml]>
<![endif]><![if !vml]>
<![endif]><![if !vml]>
<![endif]><![if !vml]>
<![endif]><![if !vml]>
<![endif]><![if !vml]>
<![endif]><![if !vml]>
<![endif]><![if !vml]>
<![endif]><![if !vml]>
<![endif]><![if !vml]>
<![endif]><![if !vml]>
<![endif]>


---
Sir Thomas Sean Connery (born August 25, 1930 in Edinburgh, Midlothian, Scotland, UK, better known simply as Sean Connery, is a Scottish film actor who has starred in many Hollywood films and is best known as the original official James Bond.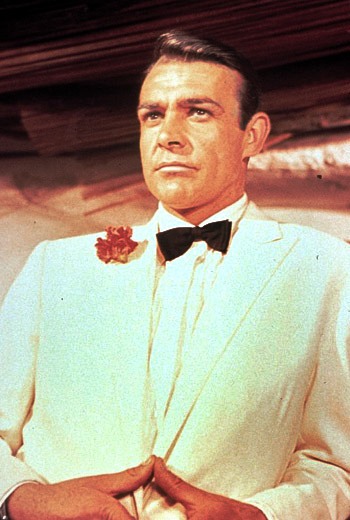 Connery is known for his trademark Scottish accent and his good lucks, repeatedly being mentioned as one of the most attractive men alive by magazines even after he was considerably older than more conventional sex symbols.

Connery is well known to audiences around the world for his role as James Bond. He first appeared as agent 007 in Dr No (1962) and subsequently played Bond in several sequels: From Russia With Love (1963), Goldfinger (1964), Thunderball (1965), You Only Live Twice (1967) and Diamonds Are Forever (1971).

In 1967 Connery quit the role of Bond, which lead to Albert R. Broccoli hiring George Lazenby to continue the film franchise in 1969's On Her Majesty's Secret Service. After the film's release, however, Lazenby backed out of a seven film contract. Broccoli again asked Connery to return to the role and paid him $1.25 million plus 12.5% of the film's profits, or about $6 million total to do so, at the time the highest salary of any actor. Connery returned one final official time in 1971's Diamonds Are Forever, quitting the role shortly after release.

Over 40 years since he first played the role, Connery is still widely regarded as the definitive cinematic incarnation of James Bond, despite credible interpretations of the character by the likes of Roger Moore, Pierce Brosnan, and what many believe to be a more authentic literary performance by Timothy

Dalton.
---
George Lazenby (born September 5, 1939) is an Australian actor. He was born in Goulburn, New South Wales, Australia, and served in the Australian Army Special Forces and as a military unarmed combat instructor. He moved to London in 1964, working as a car salesmen and as a model, then as an actor in advertising. By 1968, he was the highest paid model in the world. His first serious acting role was as James Bond in the film On Her Majesty's Secret Service (1969). Although it performed relatively poorly on release, in part thanks to a poor publicity campaign, the movie is now considered among the best of the series by many, but not all, fans of the Bond movie series; it is one of the best regarded by fans of Ian Fleming's novels. After the movie, Lazenby's agent talked him into refusing a seven movie contract on the grounds that the Bond character was out of touch with the times. Unsurprisingly, Lazenby describes this as the biggest mistake of his life.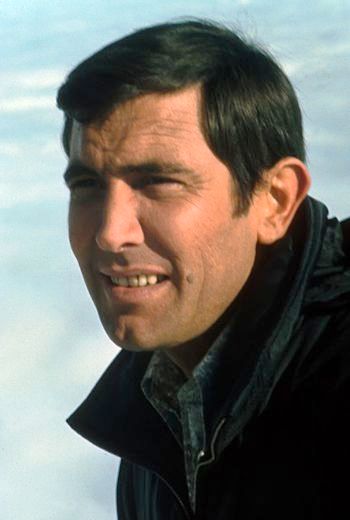 In the 1970's he worked in Hong Kong with Bruce Lee, and had a lunch appointment with Lee and Raymond Chow to discuss a major movie project when Lee suddenly died. Despite starring in On Her Majesty's Secret Service (1969) and The Kentucky Fried Movie (1977) two films that combined grossed over $100 million worldwide in the 1970's, the standard at the time for an actor to be established as a bona-fide box office hit draw, Lazenby's acting career never really took off. He then focused more on business and real estate investments and ended up owning mansions in Hong Kong, Hawaii, Brentwood, Los Angeles, California, Australia and a six-hundred acre ranch estate in Valyermo, California.

In 2002 he married his second wife, the former tennis player Pam Shriver. The couple had their first baby on 12 July 2004. Today Lazenby enjoys motorcycle racing, car racing, reading, watching movies and playing golf and tennis. As a former commando, expect skier, expect martial artist with multiple black belts, accomplished horseman, motorcycle racer, car racer and having the ability to act many still consider him the

quintessential James Bond.
---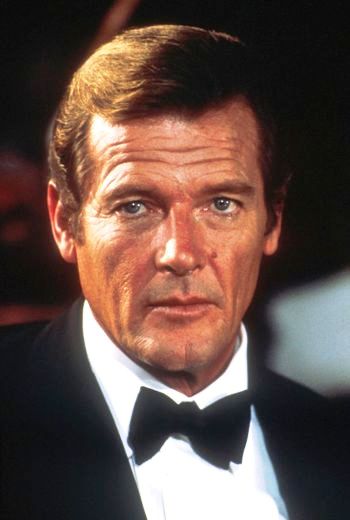 Sir Roger George Moore (born October 14, 1927) is an English actor known for his suave and witty demeanour. He is known best for portraying two fictional British detectives—first, the television sleuth Simon Templar in The Saint, from 1962 to 1969, and second, the cinematic James Bond, from 1973 to 1985.

In the early 1960s, Roger Moore was one of the actors first considered for the James Bond role, but his television commitments—The Saint and The Persuaders—prevented him from assuming the role until 1971, when he was signed to play James Bond, secret agent 007, in: Live and Let Die (1973). He would again play the suave and sophisticated agent in The Man with the Golden Gun (1974), The Spy Who Loved Me (1977), Moonraker (1979), For Your Eyes Only (1981), Octopussy (1983) and A View to a Kill (1985).

To date, Sir Roger Moore is the longest-serving James Bond actor at fifteen years (from when he was signed in 1971, to 1986 when Timothy Dalton was then signed to the part) and seven official films. Moore's James Bond was light-

hearted, more than any of his other four James Bond actor comrades.
---
Timothy Dalton (born March 21, 1946) is a Welsh-born English actor of stage and screen most famous as the fourth official James Bond.

In 1986, after Roger Moore's final, definitive retirement from the James Bond role, Dalton was approached to replace him after Pierce Brosnan was already approached for the role. Brosnan was forced to relinquish the role due to television commitments with the revival of Remington Steele. Previously, Dalton had been offered the role several times before—as early as 1968, to replace Sean Connery, but had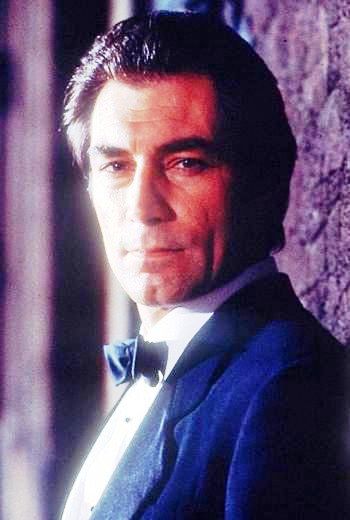 > turned down the role each time feeling he was too young for it. Work commitments made him again refuse the role in 1986, but when asked a second time, he agreed to three James Bond films. The first, The Living Daylights (1987) was successful and grossed more than the previous two Roger Moore Bond films as well as contemporary box office revivals such as Die Hard and Lethal Weapon. The second film, Licence to Kill (1989) didn't do as well at the box office in part due to a lacklustre marketing campaign losing out in America in particular. Licence to Kill was still a success in comparison to other previous films such as 1985's A View to a Kill and was one of the most profitable of the series thanks to its relatively small budget, a mere $25 million, the same as Moonraker had cost ten years earlier. In 1994, Dalton officially dropped the James Bond role, re-opening the door for Pierce Brosnan.

Dalton's darker, realistic and (viewed by some) more authentic literary portrayal of secret agent James Bond was a double-edge sword. Critics generally liked the more serious James Bond after more than a decade of Roger Moore's light-hearted approach, but the reaction of fans was mixed, particularly from those unfamiliar with Ian Fleming's original James Bond novels and from those that liked the cinematic

version of agent 007 better.
---
Pierce Brendan Brosnan (born May 16, 1953) is an Irish film actor and producer. He is best known portraying the James Bond secret agent character in four spy films: GoldenEye, Tomorrow Never Dies, The World Is Not Enough and Die Another Day. He is credited with reviving the James Bond film series after the two critically acclaimed, but commercially unsuccessful Bond films of Timothy Dalton.

Pierce Brosnan was born in Navan, County Meath, Republic of Ireland and was raised in England. In the mid-1980s, he became a television star in the USA as the eponymous character of the NBC detective series Remington Steele.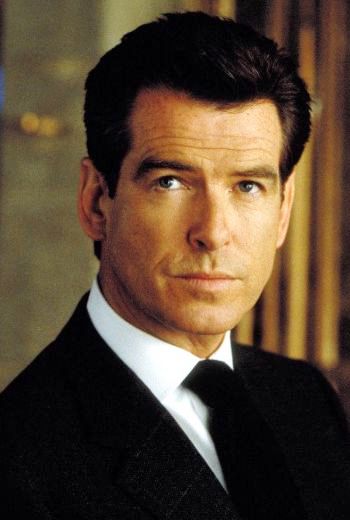 Bronan's first wife, the Australian actress Cassandra Harris, died of ovarian cancer, in 1991, after eleven years of marriage. In 2001, Brosnan was remarried, to American journalist Keely Shaye Smith.

In July 2003, Queen Elizabeth II awarded Brosnan an honourary OBE for his "outstanding contribution to the British film industry". As an Irish citizen, he is ineligible to receive the full OBE honour, which is awarded only to a British subject.

On September 23, 2004, Pierce Brosnan was naturalised as a US citizen. He is the father of three American sons, and has lived in the United States for more than twenty years.

In 1986, with Roger Moore's retirement from the role of James Bond, Pierce Brosnan (whose Remington Steele series had just ended), was announced as Moore's successor. The publicity revived the Remington Steele program and forced Brosnan to back out of the role due to his contract with the show, but when Timothy Dalton (who accepted the role of James Bond) announced his disinterest in playing James Bond, left the door open for Brosnan, in 1994.

Brosnan's appointment as Bond brought things full circle for the actor, who stated in interviews that the very first movie he ever saw was Goldfinger and that Sean Connery's performance as Bond inspired him to enter show business.

Brosnan was signed for a four-film deal and first appeared as agent 007 in 1995's GoldenEye to much critical praise. GoldenEye more than doubled the gross of Dalton's previous film in worldwide ticket box office sales. Pierce returned as Bond in 1997's Tomorrow Never Dies and 1999's The World Is Not Enough to virtually the same success. In 2002 Brosnan appeared for his fourth and final time as the super suave secret agent in Die Another Day. Die Another Day shattered all previous Bond films in terms of worldwide box office gross and currently is the highest grossing Bond film ever.

In early 2004, Brosnan starred in the James Bond video game Everything or Nothing, allowing his

likeness to be used as well as doing the voice work for the character.
---









---