<![if !vml]>
<![endif]>


<![if !vml]>
<![endif]><![if !vml]>
<![endif]><![if !vml]>
<![endif]><![if !vml]>
<![endif]><![if !vml]>
<![endif]><![if !vml]>
<![endif]><![if !vml]>
<![endif]><![if !vml]>
<![endif]><![if !vml]>
<![endif]><![if !vml]>
<![endif]><![if !vml]>
<![endif]><![if !vml]>
<![endif]><![if !vml]>
<![endif]><![if !vml]>
<![endif]><![if !vml]>
<![endif]>OVERVIEW
---
---
James Bond is Secret Agent 007. His superiors and other officers are known by letters such as M and Q.
Ian Fleming named 007 after the American ornithologist James Bond; he explained to Mrs Bond that her husband's: "brief, unromantic, Anglo-Saxon and yet very masculine name was just what I needed." The real James Bond had written Birds of the West Indies, and Fleming, a keen bird watcher while in Jamaica, had a copy of Bond's bird manual and chose its author's name for that of the hero Casino Royale in 1953.
James Bond is partly Ian Fleming―noted for his glamorous lifestyle, which included relationships with women. Fleming was inspired by his contemporaries in British Intelligence during World War II. The Estoril Casino, Portugal, is James Bond's credited birthplace; its atmosphere inspired Fleming, as European royalty openly mingled with the world's spies.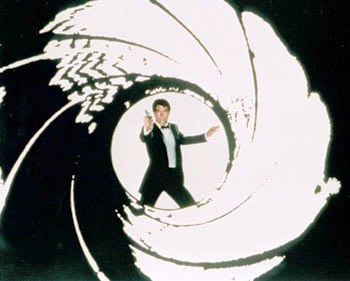 The cinematic Bond's polymath was introduced early and later abandoned. It was first demonstrated in Goldfinger, wherein he calculates how many trucks it would take to transport all the gold in Fort Knox and instantly calculates for how long the gold would be radioactive after Goldfinger's bomb had exploded. Bond's 'genius' was a running joke during Roger Moore's era, at its height in Moonraker, it was scaled back, if not eliminated, during Timothy Dalton's tenure as James Bond.
Bond is a moderate-to-heavy drinker. According to some estimates, he has consumed 101 alcoholic beverages in his films and 317 in Fleming's novels. In the films, he drinks champagne 32 times and 20 vodka martinis. In the novels, he has a strong preference for bourbon whiskey. In several films, most notably those featuring Roger Moore,

Bond has also smoked cigars.
---
The Franchise
For fifty years, the James Bond novels and movies have varied from realistic spy drama to outright science fiction. The Bond franchise has entered popular culture and language.

The films are known for the unique villains, the women, the Q-Branch gadgets and the stunts. Having little to do with the activities of real intelligence agencies, James Bondís adventures are violent, brave and heroic deeds to save the world from apocalyptic madmen. Invariably, such madmen try killing Bond with death-traps, after the villain tells him the information critical to foiling his plot. Despite the filmsí description as 'thrillers', James Bond rarely is troubled, regardless of the odds facing him. Many of the original books by Fleming are dark, with few fantasy elements and gadgets.

The first actor to play secret agent James Bond was the American Barry Nelson, in a 1954 CBS television production of Casino Royale, however, the agentís name was ĎJimmy Bondí. Later, in 1956, Bob Holness played Bond in a South African radio dramatisation of Moonraker.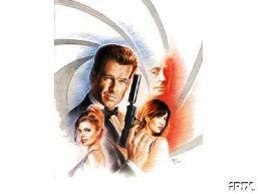 The official cinema series from producers Albert R. Broccoli and Harry Saltzman began in 1962, with Dr No, starring Sean Connery as James Bond. Over the next forty years, twenty official and an addition two unofficial films were released, including six actors (Sean Connery, David Niven, George Lazenby, Roger Moore, Timothy Dalton and Pierce Brosnan) playing the role of James Bond. With a few exceptions, all the films have been box office successes and continue earning money in television decades after release.

As a household name, James Bond (arguably the most successful fictional character, ever) has had a definitive impact on the cinematic spy genre, i.e. parodies such as Casino Royale (1967), the Austin Powers series and the most recent Johnny English (2003). In the 1960s, the success of the James Bond, secret agent 007, films inspired television imitators

such as, I Spy, Get Smart, The Wild Wild West and The Man from U.N.C.L.E.
---









---