<![if !vml]>
<![endif]>
<![if !vml]>
<![endif]><![if !vml]>
<![endif]><![if !vml]>
<![endif]><![if !vml]>
<![endif]><![if !vml]>
<![endif]><![if !vml]>
<![endif]><![if !vml]>
<![endif]><![if !vml]>
<![endif]><![if !vml]>
<![endif]><![if !vml]>
<![endif]><![if !vml]>
<![endif]><![if !vml]>
<![endif]><![if !vml]>
<![endif]><![if !vml]>
<![endif]><![if !vml]>
<![endif]>


---
Main Villains
---
DR NO
---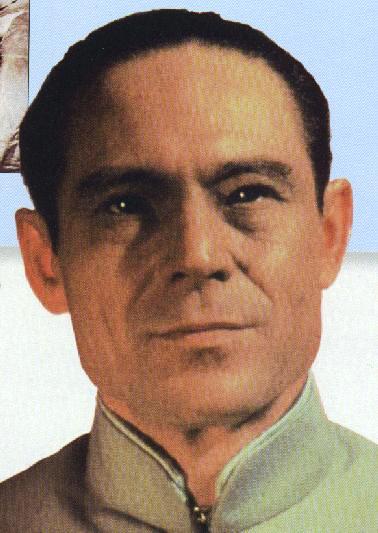 Dr Julius No is a fictional character in the James Bond film and novel Dr No. He was the very first James Bond villain in the film series. Dr No was played by Joseph Wiseman.

Dr No is a brilliant scientist who is half German and half Chinese. He specialised in atomic energy at the cost of losing both of his hands, which were replaced with metal hooks.

He offered his skills and expertise to the Americans but was rejected. To get revenge, No joined the villainous organisation SPECTRE where he relocated to his island in Crab Key, Jamaica.

Dr No, in an effort to cause trouble for the Americans, used his secret island base as a headquarters where he would sabotage US missiles removing their guidance systems and destroying them.

No was killed after a hand-to-hand fight with Bond on a descending platform. Due to Dr No's metal hooks he was unable to grip the framework of the lift and thus sank into the boiling radioactive

water to his death.
---
Joseph Wiseman (born May 15, 1918 in Montreal, Quebec) was a Canadian actor who played the title character, Dr Julius No in the first James Bond film, Dr No.

He also had roles in a wide variety of other films, including The Apprenticeship of Duddy Kravitz and

Buck Rogers in the 25th Century.
---
FROM RUSSIA WITH LOVE
---
Ernst Stavro Blofeld is a fictional character in the James Bond universe. He is the archenemy of MI6 Secret Service Agent James Bond and head of the evil terrorist organisation, SPECTRE,

Blofeld usually appears accompanied by a white Angora cat in the films (but not in the novels). It was also briefly a trademark of the Bond films not to show Blofeld's face, only a close-up of Blofeld stroking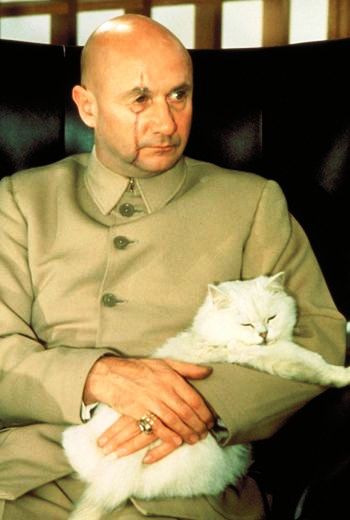 his cat. This "trademark" was later broken in the film You Only Live Twice and subsequent films.

Blofeld appears in five official James Bond movies as well as Never Say Never Again, the 1983 remake of Thunderball, which makes him the most persistent and arguably greatest of James Bond's enemies.

Blofeld was responsible for the murder of Bond's wife Tracy Bond in On Her Majesty's Secret Service, but for years never got his comeuppance. Blofeld apparently met his demise (or so we thought) in the pre-title sequence of 1981's For Your Eyes Only but for copyright reasons his name was never mentioned either verbally or in the final credits. The only indications that this wheelchair-bound character is Blofeld are the presence of the Angora cat, baldness and the original trademark of not showing Blofeld's face. In the novels Blofeld was killed by Bond in Japan in the novel You Only Live Twice.

In the films, Blofeld's physical appearance and personality varies wildly due to the change of actors (i.e. Blofeld's scar does not appear in On Her Majesty's Secret Service or Diamonds Are Forever, and in On Her Majesty's Secret Service it is revealed that Blofeld has removed his earlobes, but they return in Diamonds Are Forever along with a full head of hair). This is actually in keeping with the Blofeld of Fleming's novels,

who is described as drastically changing his personality and appearance in order to hide from Bond.
---
Lotte Lenya (October 18, 1898 – November 27, 1981), singer and actor, born Karoline Wilhelmine Blamauer, in Vienna, Austria.

As a child of working class parents, Lenya wanted to be a dancer. She moved to study in Zurich, Switzerland in 1914, taking up her first job at the Schauspielhaus. She moved to seek work in Berlin, Germany in 1921, where the following year she was seen by her future husband, the German composer Kurt Weill during an audition, although they did not meet properly until 1924, marrying him for the first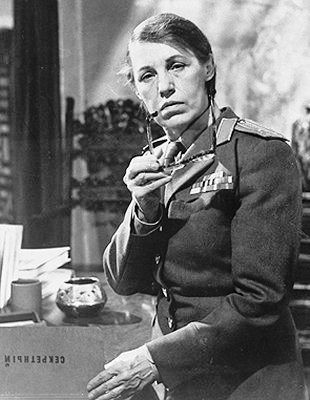 time in 1926.

After she accepted the part of Jenny in Die Dreigroschenoper in 1928, she was accepted into the local stage community and performed in a variety of musicals, especially those of Weill and his collaborator Bertolt Brecht. With the rise of Nazism in Germany, and being Jewish, and having become estranged from Weill, Lenya fled to Paris, France in March 1933, then on to the United States of America. She divorced Weill in 1933, and remarried him in 1937: he died in 1950.

During World War II Lenya sang on stage and performed on Voice of America. After being coaxed back on stage after her husband's death, she appeared on Broadway in Barefoot in Athens and married writer George Davis. In 1954 she won a Tony Award for her role as Jenny in Marc Blitzstein's English version of Die Dreigroschenoper, The Threepenny Opera.

Lenya went on to record a number of songs from her time in Berlin, as well as songs from the American theatre, in a distinctive husky low voice. The combination of singing and speaking called "sprechstimme" was devised by Weill to accommodate her voice.

She was present in the studio when Louis Armstrong recorded Weill's "Mack the Knife". Armstrong improvised the line "Look out for Miss Lotte Lenya!" and added her name to the long list of Mack's female victims in the song for the English translation.

After 1957 death of George Davis, she married the artist Russell Detwiler in 1962, who died aged 44 in 1969.

Lenya died in New York from cancer in 1981. She is entombed, with her first husband, in a

mausoleum at the Mount Repose Cemetery, Haverstraw, New York.
---
GOLDFINGER
---
Auric Goldfinger is a fictional character in the James Bond film and novel Goldfinger. His first name, Auric, is an adjective meaning of gold. Goldfinger was played by Gert Fröbe. Consequently, Goldfinger was banned in Israel after it was revealed that Fröbe was a member of the Nazi party. The ban, however, was lifted many years later when a Jewish family publicly thanked Fröbe for protecting them from persecution during World War II.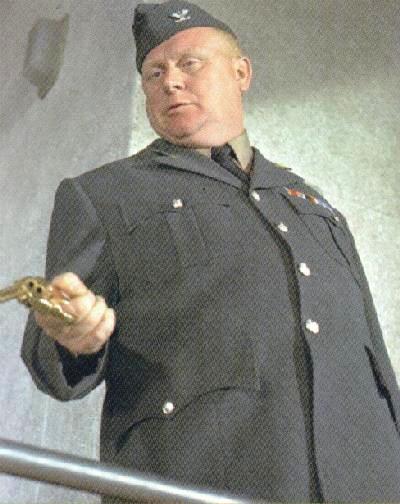 In 2003, the American Film Institute declared Auric Goldfinger the 49th greatest villain in the past 100 years of film.

Arguably the most famous James Bond villain in any film, Goldfinger's obsession was gold. In fact, Goldfinger was a gold smuggler accomplishing this feat by having a workable car built out of gold and transporting it via airplane. Once the car got to its destination, Goldfinger would have it melted down. Goldfinger is also an avid golfer who plays a Slazenger 7 golf ball. He's defeated by Bond, however, when he is tricked by Bond after attempting to cheat.

Auric Goldfinger owned many properties throughout the world including "Auric Enterprises, A.C.", which was the headquarters for most of his smuggling operations. It was located in Switzerland. He also owned a farm in Kentucky that was used for horse breeding called "Auric Stud".

Goldfinger's scheme, codenamed "Operation Grandslam", involved breaking into the US Bullion Depository at Fort Knox, and detonating a nuclear weapon thus contaminating the United States gold reserve and thereby dramatically increasing the value of his gold holdings.

He was terminated by being sucked out of an airplane, mid-flight, when attempting to assassinate

Bond.
---
Karl-Gerhart Fröber, better known as Gert Fröbe (February 25, 1913 – September 5, 1988), was a German actor who starred in many films, including the James Bond film Goldfinger as Auric Goldfinger and Chitty Chitty Bang Bang as Baron Bomburst. Fröbe could not speak English and was ultimately dubbed

in many of his classic roles.
---
THUNDERBALL
---
Emilio Largo is the main villain in the 1965 James Bond movie Thunderball. He was played by Italian actor Adolfo Celi. He is also the main villain in the 1983 unofficial James Bond movie Never Say Never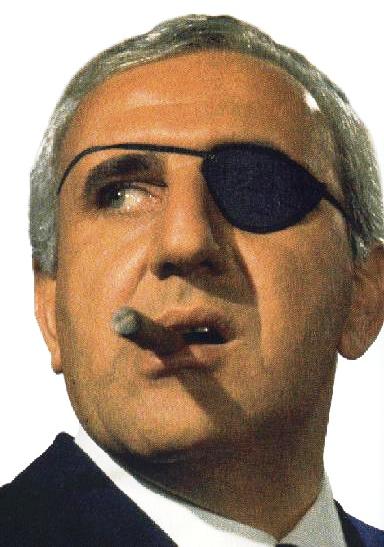 Again, a remake of Thunderball. In Never Say Never Again he was played by the Austrian actor Klaus Maria Brandauer.

Largo is a grey haired man in his 50's who wears an eye patch and works for the evil organization, SPECTRE where he is Number 2 and head of extortion operations. Largo's two main headquarters were located in Palmyra. The first was his estate which housed a giant swimming pool filled with sharks. Bond would later be thrown into this pool only just to barely escape. The second was Largo's private yacht, nicknamed the Disco Volante. The yacht played a pivotal role in the seizure and transportation of two nuclear weapons.

Largo's scheme in Thunderball, at the time, was unique and ingenious. It involved the theft of two nuclear weapons from NATO at sea to which he would then use to hold the world hostage by threatening to detonate the two devices in England or the United States unless they paid the ransom of 100 million British pounds.

The basic concept of Largo's scheme in Thunderball is held over in Never Say Never Again. Like Thunderball the scheme involved obtaining two nuclear warheads, this time stealing them directly from a United States Air Force base in the UK and holding the world hostage.

He is killed by his mistress Domino, shot in the back with a harpoon gun while on his yacht.
---
YOU ONLY LIVE TWICE
---
Donald Pleasence (October 5, 1919 – February 2, 1995) was a British actor. He was born in Worksop,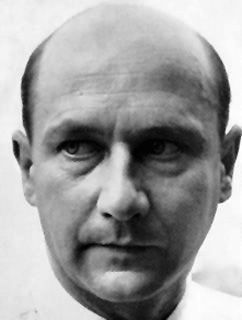 England, the son of a stationmaster.

Pleasence's acting career began in a 1939 production of Wuthering Heights, but was soon interrupted by his service in the Royal Air Force and a year in a German prisoner-of-war camp. He had been a conscientious objector at first, but later joined the Royal Air Force. He was shot down and taken prisoner.

He returned to acting after the war, and critics began to call him the "Man with the Hypnotic Eye". Perhaps because of this, and his bald head and quiet-but-intense voice, he specialised in insane and evil characters. His trademark voice may be credited to elocution lessons he had as a child.

Pleasence was married four times and is father to five daughters. Miriam Raymond and Pleasance produced two daughters, Anglea and Jean in their 1941 to 1958 marriage. His 1959 to 1970 marriage to actress and singer Josephine Martin Crombie produced two daughters, Lucy and Polly. He was married to Meira Shore from 1970 to 1988 and they had one daughter, Miranda. His last marriage to Linda (maiden surname unknown) lasted until his death in 1995.

He died in St Paul de Vence, France from complications from heart valve replacement surgery.
---
ON HER MAJESTY'S SECRET SERVICE
---
Telly Savalas (January 21, 1924 – January 22, 1994) was a Greek-American actor. He was best known for his work on the Kojak television series, and for playing Ernst Stavro Blofeld in the James Bond film On Her Majesty's Secret Service.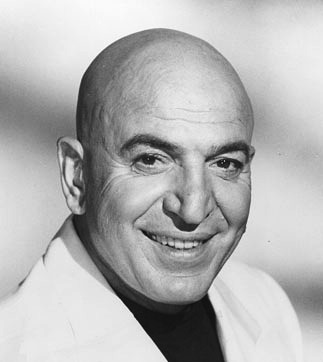 Savalas was born in Garden City, New York to Greek parents, Nicholas and Christina Savalas. He served in World War II after he dropped out of Columbia University, where he was studying psychology. He was honourably discharged with a Purple Heart disability. During the early 1950s, Savalas worked for ABC radio and eventually became the executive producer of his own popular talk show, "Telly's Coffee House". It was not until he was in his thirties that he decided to turn to acting.

Telly was well known for being totally bald. Up until the mid-1960s, he had what his family termed a halo—a ring of hair along the back and sides of his head. He eventually decided to shave off the remaining hair when he began playing in movies. Telly maintained that style for the rest of his life.

In the early 1990s, Savalas contracted bladder cancer, ultimately succumbing to the disease in 1994, only a day after he turned 70, in Universal City, California.

He was also the godfather of Friends star Jennifer Aniston, with whom he shared Greek roots.
---
DIAMONDS ARE FOREVER
---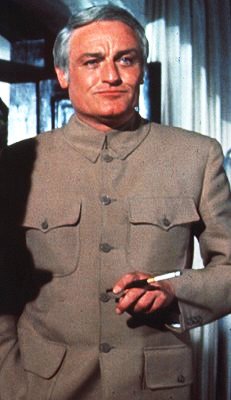 Charles Gray (August 29, 1928 – March 7, 2000) was a British actor, born in Bournemouth, Dorset.

He appears as Ernst Stavro Blofeld in the James Bond movie Diamonds Are Forever (1971). In the earlier You Only Live Twice (1967), he plays a British agent, Henderson, making him one of a small number of actors to have played a villain and a Bond ally in the series.

To many younger movie fans, he is best known for portraying The Criminologist (the narrator) in The Rocky Horror Picture Show.

He was Mycroft Holmes to Jeremy Brett's Sherlock in the Granada TV

version of the stories.
---
LIVE AND LET DIE
---
Mr Big is a James Bond villain in the novel and film Live and Let Die. In the film, Big is played by actor Yaphet Kotto. The novel and film version of Mr Big are extremely different bordering on the film character being a completely new character altogether.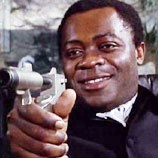 In the film, Mr Big is a businessman and owner of a chain of restaurants in New York City and New Orleans called "Fillet of Soul". Big is also the head of one of the most vicious street gangs in Harlem. On the fictional tiny island of San Monique, Big is known by his alter ego Dr Kananga. Kananga is the de facto dictator of the island and thus has certain diplomatic immunities in the United States easily allowing him to smuggle drugs into the country.

Through Big's alter ego, Kananga, he grows vast quantities of opium in San Monique that are covered by large camouflage nets and guarded by the mystical Baron Samedi. Using the poppies Kananga hopes to flood the US market with heroin distributed through Big's legitimate restaurants for free thus forcing other drug dealers out of business. In doing so he believes that he would double the amount of addicts, which he would be able to exploit with his new found monopoly.

Big is thwarted by his voodoo high priestess, Solitaire and James Bond. During the final sequence Bond forces Kananga to swallow a pellet of compressed air, which unloads in Kananga causing him to inflate

and eventually explode.
---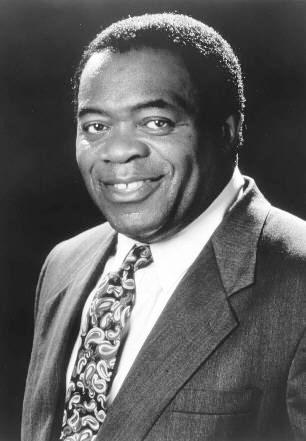 Yaphet Frederick Kotto (born November 15, 1937 in New York City) is an African-American actor. His father was from Cameroon.

Kotto got his start in acting on Broadway, where he appeared in The Great White Hope, among other things. His film debut was in 1963 in an uncredited role in 4 For Texas, but his first big break came in Nothing But a Man in 1964. Kotto landed the role of the James Bond villain Mr Big in Live and Let Die. Kotto also starred in Alien.

He played Baltimore police Lieutenant Al Giardello in the television series Homicide: Life on the Street.

Ironically, his son, Fredrick Kotto, is a real-life police officer with the

city of San Jose, California.
---
THE MAN WITH THE GOLDEN GUN
---
Francisco Scaramanga is a fictional character in the James Bond film and novel The Man with the Golden Gun. In the novel, the character is actually named Paco "Pistols" Scaramanga. For the film, Scaramanga was played by British actor Christopher Lee. Lee is actually Ian Fleming's cousin and was Fleming's pick to play the role of Dr Julius No in the film Dr No. According to some Bond film historians, Lee was also considered for the role of Bond as well.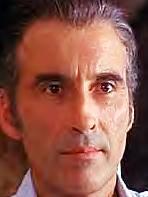 Francisco Scaramanga is a high-priced freelance assassin charging one million dollars per hit. He's best known for being "The man with the Golden Gun", which is also Scaramanga's weapon of choice. The Golden Gun can fire a custom made 4.2 calibre golden bullet. The gun also separates into a gold cigarette lighter, a gold cigarette case, a gold cuff link and a gold pen so as to avoid detection. This weapon was used to assassinate Agent 002, Bill Fairbanks.

All of Scaramanga's dealings go through his henchman Nick Nack, which allows for Scaramanga to take on a role of anonymity. Not much is truly known about Scaramanga due to this, however, Bond reveals that one feature of Scaramanga's is a third nipple. This information later comes in handy to Bond who uses Scaramanga's anonymity and only known physical feature to get into contact with Scaramanga's current employer Hai-Fat.

Francisco Scaramanga lives on a personal island somewhere off the coast of southeastern China that has it's own self-sufficient solar power plant. Scaramanga's home in addition to the power plant also includes a sort of "funhouse". Nick Nack will use the facility to often hire other assassins to murder Scaramanga as a sort of challenge to Scaramanga or perhaps to just keep him on his toes. In addition, Scaramanga also has a private junk, which Bond later steals to get off the exploding island.

Francisco Scaramanga was hired by Hai-Fat to assassinate a British scientist named Gibson, thought to be in possession of information crucial to solving the energy crisis by creating a virtually unlimited amount of energy using a new technique of harnessing the Sun's power. Gibson is assassinated and his invention, the solex agitator, is stolen at the scene by Nick Nack. The solex agitator is a critical component of Gibson's solar energy device. With it in Scaramanga's hands it allows for him to sell the device to the highest criminal bidder or use it for his own nefarious plans.

After taking Goodnight (Bond's semi-partner in the film) hostage, Scaramanga lures Bond to his private

island. There Bond and Scaramanga have a duel, which Bond eventually wins.
---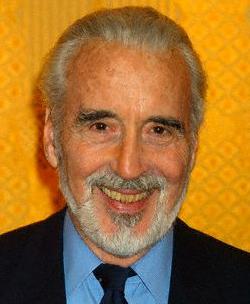 Christopher Frank Carandini Lee (born May 27, 1922 in London) is a prolific British actor known for his versatility and film longevity.

He was educated at Wellington College, he volunteered to fight for the Finnish forces during the Winter War against the Soviet Union in 1939, then served in the Royal Air Force and intelligence during World War II.

Lee became famous for his role as Count Dracula in a string of Hammer Horror films. He is viewed by many as the quintessential film villain. Other notable films include The Wicker Man and The Man with the Golden Gun. Lee is now over 80 years old, and still appearing in films such as The Lord of the Rings: The Fellowship of the Ring, and Star

Wars Episode II: Attack of the Clones.
---
THE SPY WHO LOVED ME
---
Karl Stromberg is a fictional character in the James Bond film The Spy Who Loved Me. Stromberg was played by German actor Curt Jurgens. The character Stromberg was created specifically for the film by writer Christopher Wood. The novel The Spy Who Loved Me, written by Ian Fleming wasn't told from Bond's perspective, but rather a Bond girl that is in love with James Bond. The entire plot of the film has actually nothing to do at all with the plot of the novel. This was at Fleming's request; when he sold the rights to his novel to EON Productions he requested only the title be used. Stromberg has the distinction, therefore, of being the very first major James Bond villain to be created specifically for the movies.

Stromberg was a successful self-employed businessman as head of his own shipping firm. Stromberg's obsession and passion was the ocean where he lived in his palace, named Atlantis, that could submerge itself underwater so as not to be seen or detected. Located off of Sardinia, Italy, Atlantis had everything to support life above and below water for any length of time. In fact, Atlantis was more like a city, able to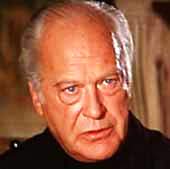 support dozens if not hundreds of people.

Stromberg also owned a huge tanker, named Liparus, that was his headquarters away from Atlantis.

Although Stromberg had a passion and love for the ocean and its life, he absolutely despised human life. It was his belief and personal mission to start over with a new civilisation underwater. After contracting two scientists to create the technology to track nuclear submarines, Stromberg took this technology and used it to acquire a Soviet nuclear submarine and an American submarine. By tracking the subs, Stromberg's tanker, the Liparus, would sneak up on the subs and capture them inside the tanker. His plan called for the use of firing nuclear weapons from these subs at New York City and Moscow thus framing each other's government and starting a nuclear war, which would wipe out every last human being on Earth.

This scheme is actually a recycled plot from a previous film, You Only Live Twice, which was similar in that by stealing space shuttles it would start a war between the Soviets and the Americans. It was also used, in part, in the sequel to The Spy Who Loved Me, Moonraker. In Moonraker, the villain Hugo Drax had an obsession with starting human civilisation over in space. The film Moonraker was also written by Christopher Wood.

Stromberg's scheme is prevented after Bond sneaks aboard the Liparus as a prisoner from a recently captured American submarine. With Bond's help, the crews of the other submarines escape and take over the tanker. With the tanker in their control, Bond is able to order the stolen submarines to fire their nuclear warheads at each other. Prior to this, however, Stromberg abducts Bond's partner, Anya Amasova, and escapes to his city-ship, Atlantis.

Bond pursues Stromberg, and after two failed attempts by Stromberg to kill Bond, Bond exercises his licence to kill, executing Stromberg with multiple gunshots to the chest. Afterwards, Atlantis is scuttled by

the remaining American submarine while Bond and Anya escape.
---
Curt Jürgens (December 13, 1915 – June 18, 1982) was a German stage and motion-picture actor.

Known as Curt Jurgens in the English-speaking world, he was born in Solln, Bayern, Germany. He began his working career as a journalist before becoming an actor at the urging of his actress wife, Louise Basler. He spent
much of his early acting career on the stage in Vienna.

Critical of the Nazis in his native Germany, in 1944 he was shipped to a concentration camp. Jürgens survived and after the war became an Austrian citizen. He continued with his acting career, becoming an international film star. His breakthrough screen role came in Des Teufels General (1955, The Devil's General) and he came to Hollywood following his appearance in the sensational 1956 Roger Vadim directed French film Et Dieu ... créa la femme (And God Created Woman) starring Brigitte Bardot. In 1957, Jürgens made his first Hollywood film, The Enemy Below.

Although he appeared in over 100 films, Jürgens considered himself primarily a stage actor. He directed a few films with limited success, and also wrote screenplays. Curd Jürgens was married five times; one of his wives was actress Eva Bartok (1927-1998). Showing his sense of humour, he titled his 1975 autobiography "Sixty and Not Yet Wise".

Jürgens maintained a home in France but frequently returned to Vienna to perform on stage and that was where he died of a heart attack in 1982. He was interred in the city's Zentralfriedhof. Jurgens had suffered another heart attack several years before. During this he had a terrifying experience where he claimed he

died and went to hell.
---
MOONRAKER
---
Sir Hugo Drax is a fictional character and villain created by author Ian Fleming for the James Bond novel Moonraker. For the film and novelisation, Drax was largely transformed by screenwriter Christopher Wood. In the film, Drax is played by actor Michael Lonsdale.

Hugo Drax is a billionaire living in California in a château that was imported from France. He owns Drax Industries, which constructs space shuttles. In addition, Drax supposedly owns the Eiffel Tower, but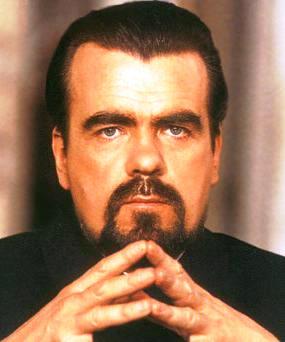 apparently couldn't export it from France because they wouldn't issue him an export licence.

In a scheme similar to that of Karl Stromberg's plan, Drax sought to destroy the entire human race except for a small group of carefully selected humans, both male and female, that would leave Earth and start over on a space station in Earth's orbit. Using biological weapons created by Drax's scientists he would wipe out the remaining human race. After a period of time when the biological agents no longer had any effect, Drax and his master race would return to Earth to reinhabit the planet. These humans would supposedly be extremely loyal to him and live in harmony with one another.

In Drax's plan, the biological agents were to be dispersed around the earth from a series of fifty strategically placed globes, each containing enough toxin to kill one hundred million people. Only three globes had been launched when the station was destroyed, taking with it the threat from the other forty-seven globes. After the station is destroyed, Bond returns to Earth and uses the guns mounted to the shuttle to destroy the remaining three globes.

Bond and his companion, CIA Agent Dr Holly Goodhead, commandeer one of Drax's space shuttles and blast off to his orbiting space station. There with the help of Goodhead, Jaws and a combination of British

and American space soldiers, Bond foils Drax's plan by destroying the space station. Drax is sucked out into space after Bond shoots Drax with his wrist dart gun.
---
FOR YOUR EYES ONLY
---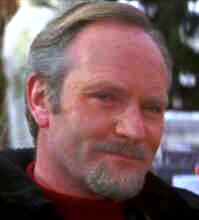 Julian Wyatt Glover (born March 27, 1935) is a British actor.

Glover was born in London, the son of Gordon Glover, a BBC radio producer, and Honor Wyatt, a close friend of the novelist Barbara Pym. He trained at the National Youth Theatre and performed with the Royal Shakespeare Company. During the 1960s and 1970s, Glover frequently appeared in British television shows, including Doctor Who and By the Sword Divided. He also appeared in films such as 1967's Quartermass and the Pit. He made some of his most notable appearances during the 1980s as the Imperial General Maximilian Veers in The Empire Strikes Back (1980), the ruthless villain Aristotle Kristatos in the James Bond film For Your Eyes Only (1981) and the deceptive American villain

Walter Donovan in Indiana Jones and the Last Crusade (1989).
---
OCTOPUSSY
---
Louis Jourdan (born June 19, 1919) is a French actor, known chiefly for his suave manner and good looks.

Born Louis Gendre in Marseille, France, he was educated in France, Turkey and England and trained as an actor at the Ecole Dramatique. He made his film debut in 1939. Following the German occupation of France during World War II, he continued to make films but after refusing to participate in Nazi propaganda films, he joined the French Resistance. After the 1944 liberation of France by the Allies, Louis Jourdan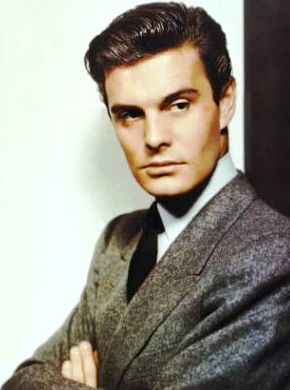 married Berthe Frederique with whom he had a son.

In 1947, Jourdan accepted an offer from a Hollywood studio to appear in The Paradine Case, an Alfred Hitchcock drama starring Gregory Peck. There, he became friends with several stars who shared his love of the game of croquet. After a number of American films, his most notable work was in the 1954 light-hearted comedy-romance, Three Coins in the Fountain following which he made his Broadway debut in the lead role in the Billy Rose drama, The Immoralist. He returned to Broadway for a short run in 1955 and that year made his US television debut as Inspector Beaumont in the series Paris Precinct.

During the 1950s, Louis Jourdan made several international films including playing the male lead in La Mariée est trop belle opposite Brigitte Bardot. However, he is best remembered as the romantic lead opposite Leslie Caron and Maurice Chevalier in the 1958 film version of the Colette novel, Gigi. The film earned nine Academy Awards, including Best Picture. In later years, Jourdan appeared in a number of films, playing the part of the villain, including 1977's Count Dracula and in the 1983 James Bond film, Octopussy, he was cast as "Kamal Khan," a Bond villain.

Tragedy struck when his son died of a drug overdose in 1981. Louis Henry Jourdan was interred in the Westwood Village Memorial Park Cemetery in Los Angeles.

Louis Jourdan has two stars on the Hollywood Walk of Fame at 6153 and 6445 Hollywood Blvd. He is

retired and living in the south of France.
---
Steven Berkoff (born August 3, 1937) is an actor, writer and director. He lives in London, in the area

called Docklands.
---
A VIEW TO A KILL
---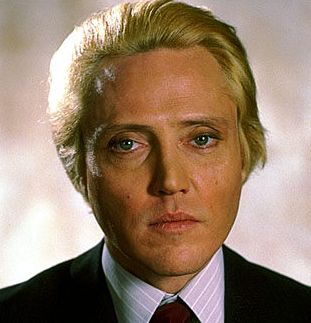 Max Zorin was the main villain of the James Bond film A View to a Kill played by Christopher Walken.

Zorin was a leading French business man, operating on the microchip market. His plan is simple: To destroy his only competition in Silicon Valley by triggering a massive earthquake in the San Andreas Fault.

His untimely death comes when he is thrown off the Golden Gate Bridge in

San Francisco.
---
Ronald Walken (born March 31, 1943), known professionally as Christopher Walken, is an American film, television and theatre actor best known for playing menacing or psychologically damaged characters. He was born in Queens, New York, and has been married to casting director, Georgianne Walken, since 1969.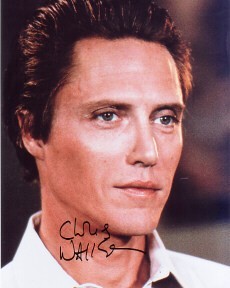 Walken initially trained as a dancer in musical theatre before moving on to more serious roles in theatre and then film. A select number of his movies include dance moves that he has worked in, reflecting this early background.

He has been in nearly one hundred movies and television shows since 1953, including The Dead Zone (1983), Brainstorm (1983), A View to a Kill (1985), Batman Returns (1991) True Romance (1993), Pulp Fiction (1994) and Catch Me If You Can (2002). He was George Lucas' second choice for Han Solo after Harrison Ford. He also has won the Academy Award for Best Supporting Actor in The Deer Hunter (1978) where he played alongside Robert De Niro. He was nominated again in 2002 for Catch Me if You Can.

He also has a considerable body of work in the theatre with over one hundred plays to his credit. He won the Clarence Derwent award for his performance in The Lion in Winter in 1966 and an Obie for his 1975 performance in Kid Champion. He has performed the main role in a number of Shakespeare plays—notably Hamlet, Macbeth, Romeo and Juliet and Coriolanus.

He tried his hand at writing and directing with the short five minute film Popcorn Shrimp in 2001.

He is also a frequent guest on Saturday Night Live where he has a recurring character and sketch called "The Continental". Another skit for which Walken has become famous was a spoof recording session for Blue Öyster Cult's "Don't Fear the Reaper." Playing a music producer, he repeatedly stopped the recording to request "more cowbell!" This sketch has become a huge cult hit.

He has also starred in two music videos. His first video role was as Madonna's guardian angel in her 1993

"Bad Girl" video and the second appearance was in Fatboy Slim's Weapon of Choice video in 2001.
---
THE LIVING DAYLIGHTS
---
Joe Don Baker (born February 12, 1936 in Groesbeck, Texas) is an American film actor best known for his three appearances in the James Bond franchise. Baker got his start in acting as an uncredited character in the 1967 film Cool Hand Luke, but his real beginnings came when he scored the role of Steve McQueen's younger brother in the film Junior Bonner. He would later star as the main character in the 1973 film Walking Tall, a film that was remade in 2004 starring The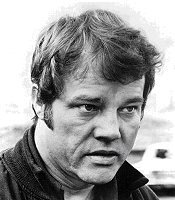 Rock.

Joe Don Baker appeared in a couple of films that were eventually lampooned on the Mystery Science Theater 3000 television series. This included the films Mitchell and Final Justice. Baker was reportedly incensed by his portrayal as an ignorant redneck in these episodes, allegedly at one point threatening to assault the writers of the show.

While actor Carroll O'Connor was undergoing heart bypass surgery, Baker took his place on the television series In the Heat of the Night. Baker appeared as Captain Tom Duggan, a retired police captain who filled in while O'Connor's character was away at a police convention.

In 1987, Baker got the role of the villain Brad Whitaker in the Bond film The Living Daylights, starring Timothy Dalton as James Bond. In 1995 and 1997 Baker returned to the Bond franchise, this time playing a different character, Jack Wade, in GoldenEye and Tomorrow Never Dies with Pierce Brosnan as Bond. He is one of six actors to have played two separate roles in the official James Bond cinema franchise, preceded by Charles Gray, Walter Gotell, Jeremy Bulloch, Maud Adams and Robert Brown. The character of Wade is similar to that of CIA agent Darius Jedburgh, played by Baker in the 1985 BBC Television serial Edge of Darkness. This serial was directed by Martin Campbell, who also

cast Baker as Wade in GoldenEye.
---
LICENCE TO KILL
---
Robert Davi (born 1953) is an American character actor who tends to play primarily villains. He is known for his rugged, pock-marked features and impressive stature. Davi is perhaps best remembered for his role as the villain Franz Sánchez in the James Bond film Licence to Kill.

He starred in NBC's Profiler and has a recurring role on Stargate Atlantis.
---
GOLDENEYE
---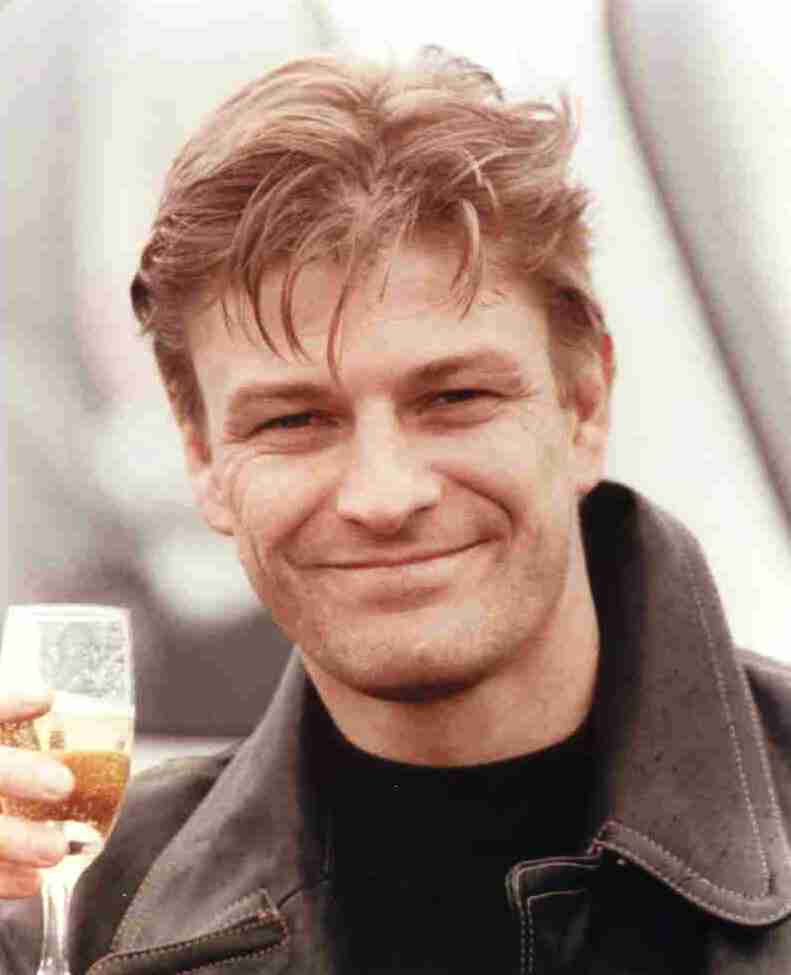 Sean Mark Bean (born April 17, 1959) is a British actor from Sheffield, Yorkshire.

He worked for his father's welding firm before becoming an actor. He made his acting debut in 1983 in theatre at Watermill Theatre in Newbury, Berkshire, England as Tybalt in Romeo and Juliet. He is best known for his role as the fictional character Boromir in The Lord of the Rings movie series and, in the United Kingdom, as Richard Sharpe in the television series. This fact of his popularity in the Sharpe series was made into an in-joke in The Lord of the Rings: The Fellowship of the Ring. Bean was also featured in the Moby music video We Are All Made of Stars. He's been married and divorced three

times and has three daughters: Lorna, Molly and Evi.
---
TOMORROW NEVER DIES
---
Jonathan Pryce (born June 1, 1947) is a British actor born in Hollywell, Wales.

In 1974 he married actress Kate Fahy and they have three children. Pryce appeared with the Royal Shakespeare Company during the 1970s. A Welsh speaker, he appeared at the concert to launch the

National Assembly for Wales, reciting poetry by Dafydd ap Gwilym.
---
THE WORLD IS NOT ENOUGH
---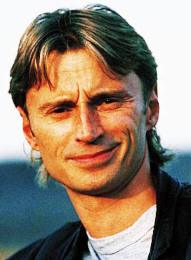 Robert Carlyle (born April 14, 1961) is a Scottish movie actor, who is considered by many to be one of the best British actors of the modern era.

Carlyle, born in Glasgow, was abandoned by his mother at the age of four. Inspired after reading Arthur Miller's The Crucible, he enrolled in acting class at the age of twenty-one, at the Glasgow Arts Centre. In 1991, he and four friends founded an acting company. He first came to the attention of the public as a psychotic murderer in an episode of Cracker (in which he killed Christopher Eccleston among others), but was soon playing a more sympathetic role, that of Highland policeman, Hamish McBeth, in the BBC comedy-drama of the same name.

In 1997, Carlyle got married to Anastasia Shirley. In 2002, she gave birth to their first child, daughter Ava.

Carlyle is perhaps best remembered for his work in The Full Monty, a comedy movie about a group of men who must perform striptease to earn their living. Another memorable role was that of the villain

Renard in the James Bond film The World Is Not Enough.
---
Sophie Marceau (November 17, 1966) is a French actress.

Born Sophie Danièle Sylvie Maupu in Paris, France, at the age of fourteen she played in the teenager movie La Boum (1980). Overnight, the film elevated her to teenage idol status in France and many other European countries. In 1983, she was honoured with a Cesar Award, France's equivalent of an Oscar, for "Most Promising Actress".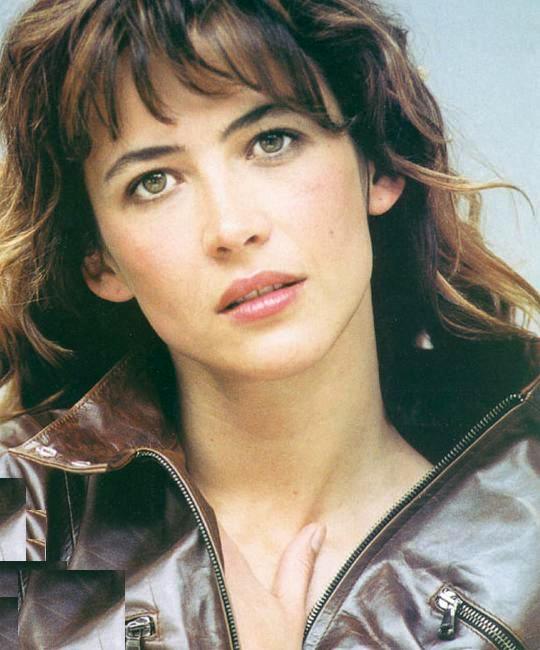 Two years later the less funny but more sentimental sequel La Boum 2 (1982) increased her popularity further. At age sixteen she played a more demanding role in Form Saganne (1984), where her partners were Gerard Depardieu and Catherine Deneuve. The same year she played with Jean-Paul Belmondo in Joyeuses Pâques (1984).

She showed her dramatic skills in films directed by her long-time companion, director Andrzej Zulawski: L'Amour braque (1985), Mes nuits sont plus belles que vos jours (1989), La Note bleue (1991) and La Fidélité (2000).

Marceau rose to international stardom playing the part of Princess Isabelle in Mel Gibson's epic Braveheart (1995). Following this success, she appeared in A Midsummer Night's Dream (1999) and as a Bond girl in the James Bond film The World Is Not Enough (1999).

Marceau wrote a semi-autobiographical novel Telling Lies (2001), and tried directing, as well. Making her directorial debut in a feature film, Sophie Marceau was awarded "Best Director" by the jury of the 2002 Montreal World Film Festival for her film Parlez-moi d'amour (Speak to Me of Love), starring Judith Godrèche. Prior to this, in 1995, she had made a nine-minute short film, L'Aube à l'envers, which also

starred her friend Godrèche.
---
DIE ANOTHER DAY
---
Toby Stephens (born April 21, 1969, Middlesex, London) is a British actor best known for his role as Gustav Graves in the 2002 James Bond movie Die Another Day. Stephens, the son of Maggie Smith and Sir Robert Stephens began his film career with the role of Othello in 1992'sOrlando. He regularly appears

on television and stage.
---
Henchmen
---
FROM RUSSIA WITH LOVE
---
"Red" Grant is a fictional character in the James Bond novel and film From Russia With Love. In the film, Grant is a henchman for the villain Rosa Klebb. Red Grant is played by actor Robert Shaw.

Red Grant, a.k.a. Donald Grant, works for SPECTRE and is assigned the task of assassinating James Bond to avenge the death of Dr Julius No. The pre-title sequence in From Russia With Love shows Bond and Grant searching for one another where in the end Grant kills Bond only to have a mask removed to reveal that the person is not Bond and that the whole thing was a training mission for Grant.

Although it's Grant's mission to kill Bond, the early part of the film shows Grant taking on the role of Bond's protector to ensure Bond delivered the Lektor encoding device. Grant is killed when Bond

outsmarts him with the use of Q-branch's attaché case.
---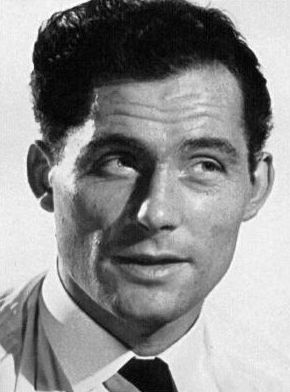 Robert Shaw (August 9, 1927 – August 28, 1978) was an English actor and writer. His best-known film performances include the henchman Red Grant in the James Bond film From Russia With Love (1963), Henry VIII in A Man for All Seasons (1966), Doyle Lonegan in The Sting (1973) and Quint in Jaws (1975).

He was an accomplished writer as well as a respected actor, adapting his own novel The Man in the Glass Booth for the stage but asking for his credit to be removed from the filmed version.

He played "the Priest" in the beautifully named A Town Called Bastard

(1971).
---
Walter Gotell (March 15, 1924 – May 5, 1997) was a German actor famous for his role as General Gogol in the Bond films.

Born in Bonn, Germany he started in films as early as 1942 usually playing German henchmen. During the 1950s he moved into making TV guest appearances on such shows as The Saint. Beginning in the 1970s he played the recurring role of General Gogol in the James Bond film The Spy Who Loved Me. The character returned in Moonraker (1979), For Your Eyes Only (1981), Octopussy (1983), A View to a Kill (1985) and The Living Daylights (1987). However, the Gogol character was not his first role in a Bond film; in 1963, he played the henchman Morzeny in From Russia With Love.

He died in 1997 from cancer.
---
GOLDFINGER
---
Oddjob is a henchman to the villain Auric Goldfinger in the James Bond film and novel, Goldfinger. In the film he was played by Korean-American, Harold Sakata.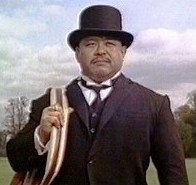 Oddjob was silent and never said a word throughout the entire novel and film. He is skilled in martial arts, specifically karate. His trademark weapon is a steel-brimmed bowler hat which he throws with deadly effect. In both the film and the novel, he is responsible for the death of Tilly Masterson, whom he decapitates by throwing his hat while she attempts to escape on foot.

Oddjob is extremely strong, demonstrating his strength in a number of scenes, including one where he crushes a golf ball with his bare hand. He was outmanoeuvred when Bond threw his hat into some metal bars in the Fort Knox vault. When Oddjob reached to retrieve his hat, Bond used a severed live electrical cable to electrify the bars, causing a deadly current

to run from the bars to the hat to Oddjob, killing him.
---
Toshiyuki "Harold" Sakata (July 1, 1920 – July 29, 1982) was a film actor most famous for his role as the villain "Oddjob" in the James Bond film Goldfinger.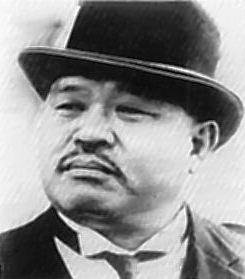 Toshiyuki Sakata was born on July 1, 1920 in Holualoa, Hawaii, of Japanese descent; when he moved to mainland America he began to go by the more Western name "Harold." He spent his early life training as a weightlifter and won a silver medal at the 1948 Summer Olympics in London; he also did a stint as a professional wrestler under the name "Tosh Togo."

Bond producers Harry Saltzman and Albert Broccoli took notice of Sakata because his heavy build—he stood 1.85 metres and weighed 129 kilograms—coupled with his intimidating gaze made him the perfect choice for the part of Oddjob. He had no acting background at all, but the character was mute and required little theatrical skill.

As Oddjob, he was bodyguard to Bond villain Auric Goldfinger and his sharpened, steel-brimmed bowler hat became a famous and much-parodied trademark of the Bond series. He appeared in several other movies in similar roles and took on "Oddjob" as a middle name.

He also appeared in a series of TV commercials for cough syrup, the premise of which was that he had a severe cough, causing him to smash everything in sight until someone gave him cough syrup.

Sakata died on July 29, 1982 in Honolulu, Hawaii, of cancer.
---
THUNDERBALL
---
Robert Wilson Simmons (March 29, 1919 – September 26, 1954), better known as Bob Simmons, was an early surfing pioneer, and considered to be the father of the modern surfboard.

Simmons was born in Los Angeles, California. During his early teens, he developed a tumour on his left ankle which nearly caused his leg to be amputated. After beating the cancer, Bob was involved in a serious bicycle collision and, while staying in the hospital, he was advised to try surfing. He first got on a surfboard at age twenty at Newport Beach, California. In 1954, Bob drowned while surfing at Windansea,

California.
---
YOU ONLY LIVE TWICE
---
Karin Dor (born February 22, 1936 in Wiesbaden, Germany) is a German actress who also starred in

British (You Only Live Twice) and American films (Alfred Hitchcock's Topaz).
---
DIAMONDS ARE FOREVER
---
Mr Wint and Mr Kidd are fictional characters in the James Bond novel and film Diamonds Are Forever. In the novel, Wint and Kidd are members of the Spangled Mob. In the film they are henchmen for the villain Ernst Stavro Blofeld. In the film Mr Wint is played by actor Bruce Glover and Mr Kidd is played by Putter Smith.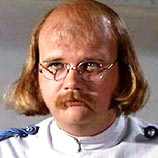 Mr Wint and his partner Mr Kidd are assassins working for Ernst Stavro Blofeld. Their assignment is to kill everyone in the "pipeline" that are connected to the diamonds being smuggled to Blofeld.

Several scenes in the film strongly suggest that Mr Wint and Mr Kidd are involved in more than just a professional relationship. The two are seen arm-in-arm in a more-than-friendly pose on two occasions. Also, when the two are on the same flight as smuggler and Bond girl Tiffany Case, Mr Kidd says that she is "quite attractive;" Mr Wint gives him a nasty look before Mr Kidd qualifies his comment with the words "for a lady."

The two use numerous methods of killing their targets (or trying to), some highly creative:
Placing a scorpion down the shirt of a South African dentist.


Using a radio-controlled bomb to blow up a helicopter shortly after killing the dentist.


Sealing Bond in a coffin and sending him into a crematorium furnace.


Tying the feet of Plenty O'Toole to a concrete block and throwing her into a swimming pool.


Putting Bond into a length of pipeline to be buried in the desert outside Las Vegas.


Their final attempt to kill Bond and Case takes place on a cruise liner after Bond foils Blofeld's plot. They pose as stewards in the couple's suite, serving them a romantic dinner complete with dessert. However, when Bond remembers the smell of Mr Wint's aftershave and links it to his prior misadventures, the pair immediately turn against him. Mr Kidd then ignites the kebabs he is holding in both hands, aiming to burn Bond alive while Mr Wint holds him. During the struggle, Case throws the dessert at one of the pair; she misses, and the dessert turns out to be concealing a bomb. Bond first neutralises Mr Kidd by splashing brandy on the kebabs and his clothes, setting him on fire. Within seconds, he is burning uncontrollably, and in desperation jumps overboard. The film portrays Mr Kidd as dead when he hits the water. Then, Bond gains the upper hand against Mr Wint, pulling his arms between his legs and tying his hands and the bomb together with his coattails. Bond then throws Mr Wint overboard, and the bomb explodes while he is falling toward the water.
---
Bruce Glover (born May 2, 1932 in Chicago) is an American actor most famous for his role of assassin Mr Wint in the 1971 James Bond film Diamonds Are Forever. He is also the father of actor Crispin

Glover.
---
Putter Smith (born Patrick Smith in 1941, California, USA) is an American jazz bassist and actor, who

played Mr Kidd in the James Bond film, Diamonds Are Forever.
---
Bruce Cabot (April 20, 1904 – May 3, 1972) was an American film actor.

Born Etienne Pelissier Jacques de Bujac in Carlsbad, New Mexico, Cabot made his film debut in 1931 and during the course of his career appeared in almost one hundred feature films.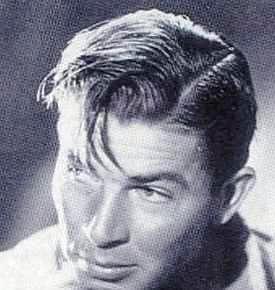 His most widely seen performance was in King Kong (1933) opposite Fay Wray.

Among his other films are Fury (1936), The Last of the Mohicans (1936), Dodge City (1939), Susan and God (1940), The Quiet American (1965) and Cat Ballou (1966). Cabot continued acting into the early 1970s, with many of his later performances being supporting roles in John Wayne films. A lifelong friend of Wayne, they first acted together in Angel and the Badman (1947). The eleven films in which they appeared together include The Comancheros (1961), The Green Berets (1968), The Undefeated (1969) and Chisum (1970).

Cabot's final film appearance was in Diamonds Are Forever (1971).

He was married twice, to the actresses Adrienne Ames and Francesca De Scaffa.

He died in Woodland Hills, California from lung cancer and throat cancer.
---
LIVE AND LET DIE
---

Julius W. Harris, (1923, Philadelphia – October 17, 2004 Woodland Hills, California) was an American actor who played in more than seventy movies and on television in a career that spanned four decades.

His first big role was as a father in Nothing But a Man, a critically acclaimed 1964 film about black life in the South starring Ivan Dixon and Abbey Lincoln.

Some of his other famous roles included Tee Hee in the James Bond film Live and Let Die, Scatter in Superfly and Ugandan President Idi Amin in the television movie Victory at Entebbe.

He was a member of the Negro Ensemble Company in New York City.
---
THE MAN WITH THE GOLDEN GUN
---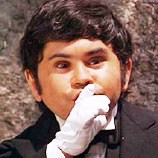 Nick Nack is a fictional character in the James Bond film The Man with the Golden Gun. He was played by French actor Hervé Villechaize. Nick Nack was an all-around personal assistant to Francisco Scaramanga. He was Scaramanga's butler, housekeeper and chef, as well as a henchman to Scaramanga's criminal activities.

A distinctive feature of Nick Nack was his height, standing at only one metre.

Although Nick Nack was very loyal to Scaramanga, at times he would hire other assassins to kill Scaramanga. Scaramanga would tolerate this as a means to practice his skills, but Nick Nack was also the sole heir to Scaramanga's estate and if the assassin were to succeed Nick Nack would inherit everything.

After Scaramanga's demise, Nick Nack was captured in a suitcase by Bond; his current status is

unknown.
---
Hervé Villechaize (April 23, 1943 – September 4, 1993) was a famous French actor who was born in Paris and achieved world-wide recognition with his role as Tattoo in the television series Fantasy Island (1978-
1984). He was also well known for playing the henchman Nick Nack in the James Bond film The Man with the Golden Gun.

Villechaize suffered from dwarfism due to a thyroid dysfunction throughout his life despite his sergeant father's attempts to cure the disease in several institutions. He insisted on being typed a midget which irritated activists like Billy Barty who felt that kind of euphemism hurt their cause. After receiving his initial art training in France, he left for the USA, where he continued his career as an artist and photographer.

His first movie appearance was in Chappaqua in 1966, which was followed by several films including Crazy Joe, Seizure and The Forbidden Zone. He proved a difficult, though popular, actor on Fantasy Island where he continually hit on women and quarrelled with the producers. He was eventually fired, but the show jumped the shark at this move and was soon cancelled.

As a consequence of his health problems and troubles in his professional career, Villechaize became alcoholic and depressive in the last few years of his life. In 1993, he shot himself at his home and was

found by his wife, Kathy Self. He died in hospital in North Hollywood, California as a result of his injuries.
---
THE SPY WHO LOVED ME
---
Jaws is a fictional assassin in the James Bond franchise. He was played by Richard Kiel and first appeared in the movie The Spy Who Loved Me as a henchman to the villain, Karl Stromberg. He would later appear in the sequel Moonraker as a henchman to the villain Hugo Drax. However, in this second appearance, his character was changed from that of a ruthless and unstoppable killing machine to more of a comedy figure. He eventually turns against Drax and helps Bond to defeat him, and also gains a girlfriend.

Jaws gets his name from having strong steel braces covering his teeth that could bite through virtually anything. During filming Kiel would only wear the steel teeth for a couple of minutes because they hurt so much. In addition to having steel braces, Jaws was also 2.10 metres tall and extremely strong which forces Bond to be especially inventive while fighting him. Furthermore, he has an uncanny ability to survive any misfortune seemingly

completely unscathed and come back to challenge Bond again.
---
Richard Kiel (born September 13, 1939 in Detroit, Michigan) is an American actor best known for his role as "Jaws" in the James Bond movies The Spy Who Loved Me and Moonraker. He also portrayed an alien

on a famous episode of The Twilight Zone entitled "To Serve Man".
---
OCTOPUSSY
---
Kabir Bedi (born January 16, 1946) is an Indian-born international film actor.

He was born in Lahore. He was married to Odissi dancer Protima Bedi. Their daughter Pooja Bedi was an

actress in Hindi films. He is currently married to Nikki Bedi.
---
A VIEW TO A KILL
---
May Day is a fictional character in the James Bond film A View to a Kill, played by actress Grace Jones.

May Day is the henchman and lover of chief villain Max Zorin. She is portrayed as the head of an all-female group of guards for Zorin. She also has superhuman strength; in one scene, she memorably lifts a man over her head with no apparent effort.

Early in the film, she kills Bond's French contact using a poisoned stage prop. Bond then goes on a memorable chase to try to track her down. She first climbs the Eiffel Tower, with Bond in pursuit, and then parachutes from the structure. Bond then tries to follow her in a car, but she eventually gets away.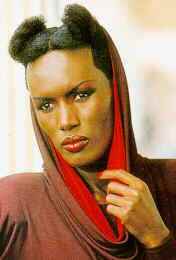 May Day and Bond next encounter one another at Zorin's horse farm during his annual thoroughbred sale. The two share an intimate evening, but shortly afterwards, she kills Bond's MI6 companion Sir Godfrey Tibbett while he is taking a Rolls-Royce through a car wash, and then collaborates with Zorin to try to drown Bond in that car.

She is one of a select few henchmen to switch sides during a Bond film. The switch comes after Zorin floods a mine near Silicon Valley which he is using in his scheme to destroy the region, thereby cornering the market in microchips. Bond and companion Stacey Sutton try to escape the mine, with May Day in pursuit; Sutton gets away, but Bond and May Day fall into the floodwaters.

Once the waters start to subside, the two wind up together again, and see the bodies of some of her colleagues. She is immediately angry at Zorin, and is more than willing to help Bond foil Zorin's plan. The pair then go to a fault where Zorin has set a nuclear bomb whose detonation would cause a massive earthquake that would lead to the flooding of Silicon Valley. She uses her strength to lower Bond to the bomb, lift Bond and the bomb back to the surface, and put the bomb on a handcar to send it out of the mine on an existing railroad line. However, the brakes on the car malfunction and unexpectedly activate. May Day realises that the bomb can only be removed from the mine if she stays on the car and holds the brakes open. Bond tries to get her to jump and save herself, but she tells Bond about the brake problem. Her last words to Bond are "Get Zorin for me!"

As Zorin and his remaining henchmen are sitting in an airship over San Francisco Bay, looking at the culmination of their plan, they suddenly see May Day exiting the mine with the bomb. Zorin suddenly says "May Day!", and the camera then changes to focus on her giving Zorin a defiant stare. The bomb

then explodes, killing her, but foiling Zorin's master plan.
---
Grace Jones (May 19, 1952) born Grace Mendoza, in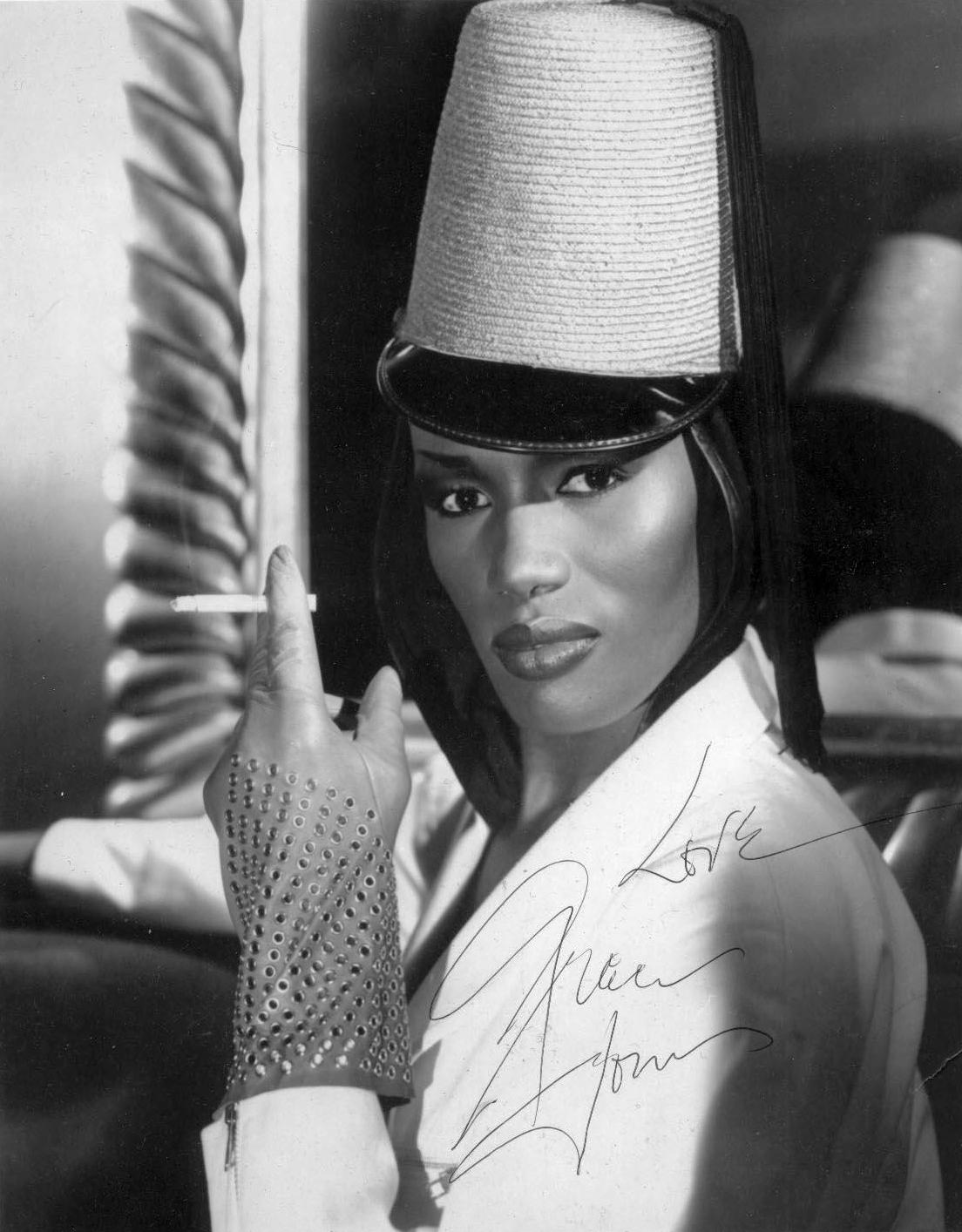 Spanish Town, Kingston, Jamaica is a model, singer and actress.

Jones is known for her post-modern costuming and performance, at which she dressed in men's clothing and gorilla suits. She gained a reputation for temperament after she physically attacked British chat show host, Russell Harty, because he turned his back on her to speak to another guest.

Musically, she began singing disco, then moved on into quirky pop and reggae, featuring big names in Jamaican music on albums such as Nightclubbing. Later, she recorded hip-hop flavoured dance music.

She was a Bond girl in A View to a Kill, a 1985 movie in the James Bond series of films. She later had a role in the 1992 Eddie Murphy film Boomerang. In 1986 she was a vampire in the film Vamp. Earlier in her acting career, she starred alongside future governor of California Arnold Schwarzenegger and NBA legend Wilt Chamberlain in 1984's Conan the Destroyer.

She appeared in the September 1987 issue of Playboy

magazine.
---
Alison Doody (born January 1, 1966 in Dublin, Ireland) is an Irish actress and the youngest of three children.

She was forced to pull out of the role of Éowyn in Peter Jackson's The Lord of the Rings movie trilogy when she became pregnant. Miranda Otto took over the role. She is probably best known for her portrayal of Dr Elsa Schneider in Indiana Jones and the Last Crusade and Jenny Flex in the James Bond

film A View to a Kill.
---
THE LIVING DAYLIGHTS
---
Jeroen Krabbé (born December 5, 1944 in Amsterdam, Noord-Holland, Netherlands) is a Dutch actor and film director.

He first came to prominence in fellow Dutch countryman Paul Verhoeven's films Soldaat van Oranje opposite Rutger Hauer and De Vierde man with Renée Soutendijk.
His first big American film was the mediocre Whoopi Goldberg comedy Jumpin' Jack Flash. However, it is as the "bad guy" in a string of international films from the late 1980s which brought him international stardom, with notable films being No Mercy, (1986), the James Bond film The Living Daylights, (1987), The Punisher, (1990) and The Fugitive, (1993). He has also appeared in numerous TV productions including the last episode of Dynasty and as Satan in the TV production Jesus.

He has also been both director and producer recently with a poignant film about Jews during the 1970s in the Netherlands co-starring Isabella Rossellini and Maximilian Schell called Left Luggage made in 1998 and the Harry Mulisch novel adapted into film The Discovery of Heaven.

Apart from acting and directing he is an accomplished artist (his paintings have graced Dutch stamps) and co-authored a Dutch cookbook. In November 2004 he released the book schilder, which is an overview of his paintings.

He has also been immortalised in wax at the Amsterdam Madame Tussaud's Wax museum.
---
LICENCE TO KILL
---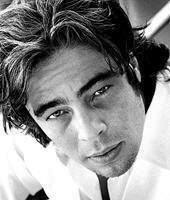 Benicio del Toro (born February 19, 1967) is an actor. He was born in San German, Puerto Rico and grew up in Santurce, a district of San Juan, Puerto Rico. His parents, Gustavo del Toro and Fausta Sanchez-del Toro, were both lawyers. Benicio's mother died of hepatitis when he was nine years old.

Benicio attended Academia del Perpetuo Socorro (The Academy of Our Lady of Perpetual Help), a Catholic school in Miramar, Puerto Rico. At age thirteen, he moved to Mercersburg, Pennsylvania, and attended Mercersburg Academy, a boarding school.

He received a best supporting actor Oscar for his role in Traffic.
---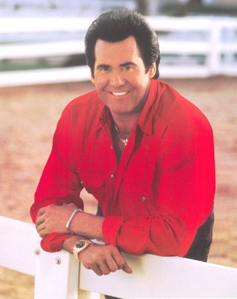 Carson Wayne Newton (born April 3, 1942) is an American singer and entertainer based in Las Vegas, Nevada. He has performed over twenty-five thousand concerts in Las Vegas over a period of over forty years, earning him the nickname Mr Las Vegas. His longevity and popularity has made him almost synonymous with Las Vegas itself. He still performs at the Stardust resort in Las Vegas for forty weeks of the year.

Born in Norfolk, Virginia, Wayne Newton was active in show business at an early age. He learned the piano, guitar and steel guitar at the age of six. Along with his older brother Jerry Newton, he appeared with the Grand Ole Opry road shows, performed for President Harry S. Truman, and auditioned unsuccessfully for Ted Mack's Original Amateur Hour.

Wayne's severe asthma forced the family to move to Phoenix, Arizona in 1952. In the spring of 1958, toward the end of Wayne's junior year in high school, a Las Vegas booking agent saw a local TV show on which the two Newton brothers were performing and took them back with him for an audition. Originally signed

for two weeks, the two brothers eventually performed for five years, doing six shows a day.
---
GOLDENEYE
---
Alan Cumming (born January 27, 1965 in Perthshire, Scotland), is an actor of stage and screen, possibly best known for his performance in the film X2 as Nightcrawler.

After graduating from the Royal Scottish Academy of Music and Drama in 1985, Cumming appeared in a six part series on British Television called Shadow of the Stone with Shirley Henderson in 1986. In 1991, he played the lead in a BBC Christmas special, Bernard and the Genie opposite Lenny Henry, and went on to star in the Scottish sitcom, The High Life, for which he also wrote the theme music, playing airline steward "Sebastian Flight".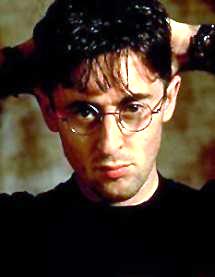 He has often been utilised as a character actor—he was the hedonistic Lord Rochester in Plunkett and Macleane (1997) as well as the evil scientist Fegan Floop in Spy Kids and its sequels, directed by Robert Rodriguez.

Perhaps one of Cumming's most acclaimed performances was as the charismatic Emcee in the 1998 Broadway revival of the popular stage musical Cabaret, for which he won a Tony as well as other awards that year.

His other stage roles have included Otto in the 2001 Broadway production of Design for Living by Noel Coward, the title role in the 1993 English Touring Theatre production of William Shakespeare's Hamlet, and "The Madman" in the 1990 Royal National Theatre production of Accidental Death of An Anarchist by Dario Fo.

In 2001 Cumming co-wrote and co-directed the ensemble film The Anniversary Party with friend Jennifer Jason Leigh, which they both starred in as a Hollywood couple.

His first novel "Tommy's Tale" was published in 2002 and he was one half of Victor and Barry with Forbes Masson, a comedy act revolving around two members of a Glasgow amateur theatre group.

He lives in New York and London with his dog Honey.
---
Xenia Onatopp is a fictional character in the James Bond film GoldenEye, played by actress Famke Janssen.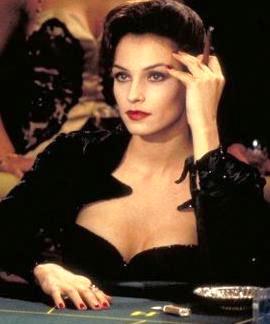 Onatopp, born in the Republic of Georgia when it was a part of the Soviet Union, was a fighter pilot in the Soviet Air Force. After the collapse of the USSR, she joined the crime syndicate Janus, led by renegade MI6 agent Alec Trevelyan. Early in the movie, Bond is involved in a car chase with her, meets her at a party and then places her under surveillance.

She encounters Bond two more times during the film, attempting to thigh-crush him on both occasions. The first time, Bond gets away and forces her to lead him to Janus. The second time is after he and Natalya Simonova, the only innocent survivor of the Severnaya attack, enter Cuba to stop Trevelyan.

Onatopp rappels from a helicopter onto Bond, who is just awakening, and quickly gains the upper hand in their battle. She gets Bond into position to crush his chest; just as Bond is ready to pass out from the pressure of her thighs, he connects the rope she rappelled down to her safety harness, and then grabs a nearby submachine gun and kills the helicopter's pilot. The chopper veers away, pulling Onatopp off Bond. She is then trapped in the fork of a tree, with her chest being crushed by her safety harness. She dies just before the chopper crashes. After Onatopp's death, Bond's quip to Natalya is "She always did

enjoy a good squeeze."
---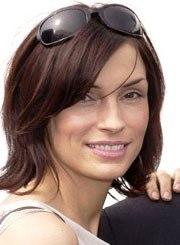 Famke Janssen (born November 5, 1965) is a Dutch actress.

Janssen was born in Amsterdam. When she moved to the US in 1984 she began her professional career as a model and worked for Yves Saint Laurent. After studying stagecraft at Columbia University she moved to Los Angeles where she appeared in guest roles on TV series (such as Star Trek: The Next Generation and Melrose Place). Soon after, she appeared in the first Pierce Brosnan James Bond film GoldenEye making an impression on the cinema world as Xenia

Onatopp. She is best known for her roles in Lord of Illusions, Rounders, X-Men, Deep Rising and X2.
---
TOMORROW NEVER DIES
---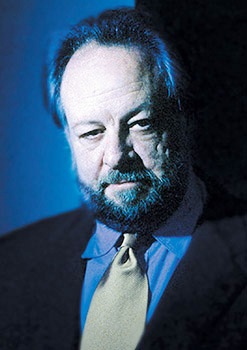 Ricky Jay (born Richard Potash in Brooklyn, New York, 1948) is an American actor and professional sleight-of-hand artist.

Ricky Jay is known for his signature card tricks, card throwing, feats of memory and inimitable stage patter. At least two of his shows, "Ricky Jay and His 52 Assistants," and "On the Stem," were directed by David Mamet, who has cast Jay in a number of his films. He has also appeared in films by other directors, notably Boogie Nights.

When not performing, he collects rare books and artefacts, has worked with libraries and museums on their collections and is the author of several books such as Learned Pigs and Fireproof Women and Cards As Weapons and a newsletter.

Up until recently Ricky Jay was listed in the Guinness Book of Records for throwing a playing card 60 metres at 145 kilometres per hour and can throw a playing card into a watermelon rind from ten paces.

Mr Jay created a consulting firm called "Deceptive Practices," which provides "Arcane Knowledge on a Need-To-Know Basis." Among his firm's clients are the stage,

television and film industries.
---
THE WORLD IS NOT ENOUGH
---
Clifford Price, better known as Goldie (born December 28, 1965 in Wolverhampton) is a British electronic music artist, disc jockey and actor. As a musician he works mainly within the jungle and drum and bass genres, and has helped to promote these styles globally. As an actor he continues to develop his skills both on the big screen and on TV.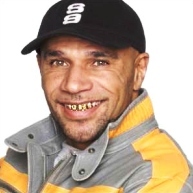 Goldie has had roles in movies, most notably the James Bond film The World Is Not Enough and in Guy Ritchie's gangster flick, Snatch. He has also acted on the British soap opera Eastenders.

Goldie has also appeared on Celebrity Big Brother in 2002 to aid of a number of charities. As a TV presenter he presented Crime Business on digital television channels Bravo and FTN, and presented The World's Deadliest Gangs on Bravo.

He is currently married to Sonjia Ashby, although he was romantically involved with singer Björk for several years (they broke up around September 19, 1996). Goldie is well known for his efforts to keep his private life out of the tabloids, and spends great effort to avoid having his

photo taken during his downtime.
---
Jeff Nuttall (July 8, 1933 – January 4, 2004) was an English poet, publisher, actor, painter, sculptor, jazz trumpeter, anarchist sympathiser and social commentator who was a key part of the British 1960s counter-culture.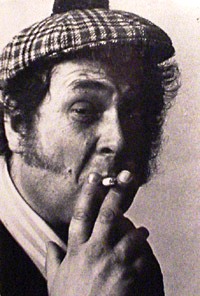 Nuttall was born in Clitheroe, Lancashire, and grew up in Herefordshire. He studied painting in the years after the World War II and began publishing poetry in the early 1960s. Together with Bob Cobbing, he founded the influential Writers Forum Press and writers workshop. He also associated with many of the American beat generation writers, especially William Burroughs. His 1968 book Bomb Culture was one of the key texts of the countercultural revolution of the time, a work which drew the links between the emergence of alternatives to mainstream societal norms and the threatening backdrop of potential nuclear cataclysm. Nuttall was one of the pioneers of the happening in Britain.

Nuttall served as Chairman of the National Poetry Society from 1975 to 1976, a period when the Society briefly served as a home for the British Poetry Revival. He was poetry critic for a number of national newspapers and was the Poetry Society nominee for Poet Laureate but was overlooked in favour of Ted Hughes.

Nuttall worked as an art teacher. In his later life he appeared in several films and on TV. His Selected Poems was

published in 2003.
---
DIE ANOTHER DAY
---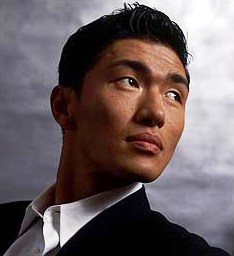 Rick Yune (born August 22, 1971) is a Korean-American actor. He was born in Seoul, South Korea, and recently appeared in the James Bond movie Die Another Day as Zao, a North Korean extremist military officer who hopes to reunify the two Koreas by wiping out the US troops stationed in South Korea. Generally popular among young people of South Korea until then, he became the subject of fierce criticism for his role in the movie, viewed as ignorant of Koreans and humouring the tense political situation between the

two Koreas.
---
Villainous Organisations
---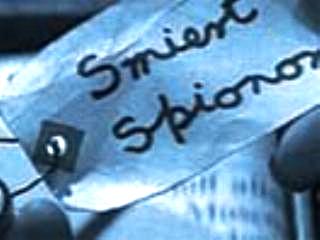 SMERSH was featured in Ian Fleming's early James Bond novels and films as 007's nemesis. SMERSH is a conjunction of two Russian words: "Smyert Shpionam", which means "Death to Spies". Though Fleming's SMERSH was supposed to be modelled on the real SMERSH organisation, the novels had SMERSH as a massive Soviet counterintelligence operation aimed at sending operatives abroad to subvert the West with an additional goal of killing western spies, particularly Bond.

The novel, Casino Royale, breaks SMERSH down into five departments:
Department I: In charge of counterintelligence among Soviet organizations at home and abroad.


Department II: Operations, including executions.


Department III: Administration and finance.


Department IV: Investigations and legal work. Personnel.


Department V: Prosecutions—the section which passes final judgment on all victims.


SMERSH made its longest-lasting impact on Bond in Casino Royale when a SMERSH agent carved a Russian letter (representing SMERSH) into the back of his hand. Despite skin grafts, a faint scar remained on Bond's hand which was referenced numerous times in future novels.

The film version of The Living Daylights, the expanded plot (an extension of the short story) was based around a faked re-activation of SMERSH, it having been defunct for twenty years prior to the film. A few passing references to SMERSH can also be found in the James Bond novels of John Gardner, most notably Icebreaker.

In later novels, as well as in the James Bond movies, Bond's archenemy became SPECTRE. Film versions of books in which SMERSH was featured either substituted SPECTRE or made the villains independent operatives, although in From Russia with Love Bond initially thinks he is combating SMERSH only to find that the film's villains are actually

working for SPECTRE.
---
The SPecial Executive for Counterintelligence, Terrorism, Revenge and Extortion (SPECTRE) is a fictional terrorist organisation led by Ernst Stavro Blofeld. Appearing in Ian Fleming's James Bond novel, Thunderball, and subsequently in a number of James Bond films where it has been the spy's most persistent opponent.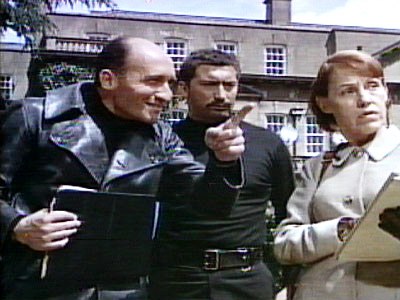 The goal of the organisation is extortion and world domination. The basic strategy of the organisation is illustrated by the analogy of the fighting fish Blofeld keeps in an aquarium in the film version of From Russia With Love. Blofeld notes that one fish is refraining from fighting two others until their fight is concluded. Then, that cunning fish attacks the weakened victor and kills it easily. Thus SPECTRE's main strategy is to instigate conflict between two powerful enemies, namely the superpowers, hoping that they will exhaust themselves and be vulnerable when SPECTRE finally moves in to seize power.

Organisation discipline is notoriously draconian with the penalty for disobedience or failure being death. Furthermore, to heighten the impact of the executions, Blofeld often chooses to focus attention on an innocent member, making it appear his death immanent, only to suddenly strike down the actual target when that person is off guard. Members of SPECTRE are referred to only by numbers within the organisation, presumably as a security measure.

SPECTRE is headed up by the super-villain, Ernst Stavro Blofeld who usually appears accompanied by a white Angora cat in the movies (but not in the books). In the films, the Number 2 of SPECTRE is Emilio Largo who appears for the first and final time in the film Thunderball. The organisation SPECTRE appears or is in some way in control in four James Bond films including:
Dr No
From Russia With Love
Thunderball
You Only Live Twice.
SPECTRE also appears in Never Say Never Again, the 1983 remake of Thunderball. In the original Bond novel series, SPECTRE first appeared in the book Thunderball. But it appears that after James Bond smashed SPECTRE's plot to blackmail NATO with stolen nuclear weapons, SPECTRE was disbanded. Blofeld continued to cause trouble on his own in On Her Majesty's Secret Service. In the official film series, the organisation is much more resilient, coming back after each defeat by Bond with increasingly grander schemes until its final apparent defeat in You Only Live Twice. After which, Blofeld apparently worked independently in the films On Her Majesty's Secret Service and Diamonds Are Forever, although SPECTRE is mentioned by name one last time in On Her Majesty's Secret Service. Blofeld also appears for the last time in the pre-title sequence of 1981's For Your Eyes

Only, where he supposedly finally meets his demise.
---









---